Torremolinos is one of the most popular resort towns in the Costa del Sol.
What used to be a poor fishing town, is now visited by millions of tourists because of its atmosphere and beaches.
It is the nearest resort to the international airport of Málaga, taking under 15 minutes by car. Gibraltar airport is also just 90 minutes away. And with easy access to the coastal highway, it is an ideal base from which you can explore various other resorts, such as Fuengirola and Benalmádena.
Offering heaps of beachside fun, along with a bustling atmosphere and excellent value for money, it continues to draw large numbers each year. Torremolinos is a popular choice for golf enthusiasts too. There are several golf courses in the area – including Golf Torrequebrada and Benalmádena Golf and thanks to the Costa del Sol's fantastic climate, these can be enjoyed all-year-round in the glorious sunshine.
This is the perfect spot for a holiday home as there is plenty of property away from the hustle and bustle. You could look at a stylish apartment and beachside properties too. The appeal of this area is very apparent, so renting out your investment would be easy.
In the fledgeling days of the package holiday, Torremolinos grew from a quaint and simple fishing village into a thriving holiday resort for the first waves of tourists arriving at the nearby Málaga airport. The town's immediacy to Málaga, its seven kilometres of beach and its superb climate ensured it quickly became something of a favourite among northern Europeans; less than a three-hour flight away for most, Torremolinos offered tangible tropical-ness, almost year-round warmth, and an intriguing peek into the Spanish way of life.
By the 1980s, it was most certainly one of the liveliest resorts in Europe, but the proliferation of low air fares and more air routes opened a greater range of choice for the consumer, and it soon fell out of favour with the average holidaymaker seeking fun in the sun. So, it set about re-inventing itself.
First, the infrastructure was modernised, followed soon by bigger and better hotels and a greater choice of attractions. Soon, became a popular gay resort (it still is) and it has, in recent years, enhanced its appeal further, adding family-friendly attractions, traditional charm and a wider choice of commercial and investment opportunities than before.
The resort's La Carihuela district is built around the old fishing village and is a wonderfully charming part of the municipality. It is home to some of the best fish and seafood restaurants you are likely to find anywhere along the coast, and essentially acts as Torremolinos' back garden, such is its idyllic nature.
The stretch of beach that runs the entire length of the resort is dotted with thousands of sun-loungers and parasols, and along the promenade are numerous restaurants and chiringuitos (most of them Spanish in character and cuisine), while the street-side promenade is home to a more international offering of cafés, restaurants, bars, and shops.
Once in the town centre, street upon shop-fronted street stretches out before you, buzzing with activity day and night. Between the stores and gift shops sit plenty more bars and restaurants, most with an open-front where al fresco coffee-sipping and people-watching can be enjoyed at your leisure.
While a great place to simply stroll around, also offers several excellent attractions. Torremolinos Aquapark, for example, claims to have the tallest waterslide in Europe, and nearby is the Crocodile Park. Just outside of town, the sprawling Plaza Mayor commercial centre is home to an outlet village, a large Leroy Merlin store and an IKEA, idea for furnishing your newly-bought home in the sun.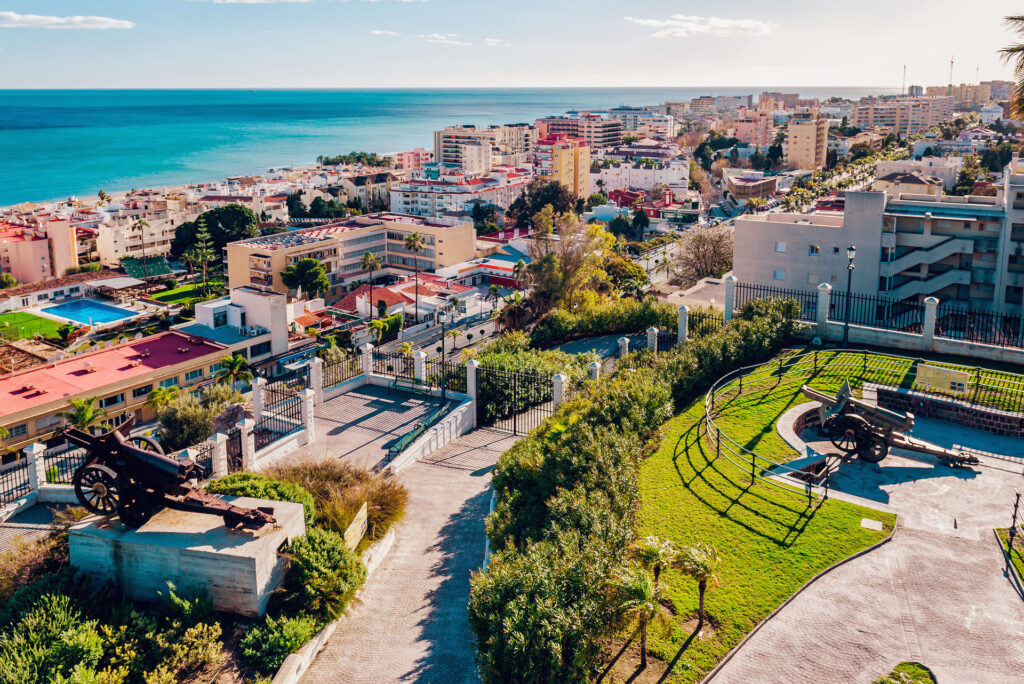 Torremolinos' previously legendary nightlife has now been usurped by almost all its major competitors to the west. Benalmádena's proximity, 24-hour square and marina combine to draw most late-night revellers away, leaving behind an essentially pleasant and peaceful atmosphere.
Most bars in the centre will stay open until 1am, with some pushing on a bit later, so if you are simply seeking a quiet drink with friends Torremolinos is ideal. There are some larger clubs, but they are mostly quite Spanish in make-up and clientele. Europeans seeking the hedonism of old will need to take a short taxi ride to Benalmádena to raise spirits!
If you want something a little more substantial from your evenings, this place will not disappoint. La Carihuela has some great tapas bars, and there are salsa evenings, cinemas, theatres, and all manner of social gatherings for the expat community to enjoy. Torremolinos has been around long enough to know how to keep all ages entertained at any hour of the day.
Torremolinos alone has seven kilometres of seafront with six main beaches, and there are many more if you continue down to Benalmádena. The most lively and colourful stretch is Playa de Bajondillo, right next to the resort's big hotels and apartment blocks and with abundant amenities like restaurants, sun loungers and parasols. If you prefer a bit more peace, then go up the Paseo Marítimo towards Playamar and Los Alamos where the resort's sprawl starts to thin out but there are still conveniences like beach bars and sun lounger rental.