A tranquil town epitomising "traditional Spain", San Pedro de Alcántara is relatively unknown on the main international tourist agendas and is quite content to stay serenely under the radar.
San Pedro de Alcántara is located between Puerto Banús and Guadalmina, just to the west of Marbella. San Pedro is, above all, known as a lively little Spanish town on the outskirts of Marbella that has a unique, charming character, which is fast making it a fashionable place to live. Unlike its siblings – Puerto Banús and Marbella – it has the feel of a town rather than a resort and there is plenty of property here for those that love the laid-back lifestyle.
San Pedro de Alcántara (incorporating Nueva Alcantara and Guadalmina) is the new gem in Marbella's growing arsenal of amazing places to visit. It has expanded from a small fishing village with a mostly Spanish community to a large cosmopolitan town, attracting people from all over the world, whilst still retaining its authentic Spanish charm.
While some foreign residents prefer to immerse themselves in the hustle and bustle of San Pedro's town centre, most opt for a house, villa, or property in the peaceful residential areas on its periphery. Here you will find modern townhouses and apartments for sale, as well as luxury villas set in quiet, leafy streets bordering the exclusive neighbourhood of Guadalmina. Those looking for great value for money would be well advised to consider this part of San Pedro, while the beachfront area of Nueva Alcántara is of particular interest to those seeking medium-term investment potential.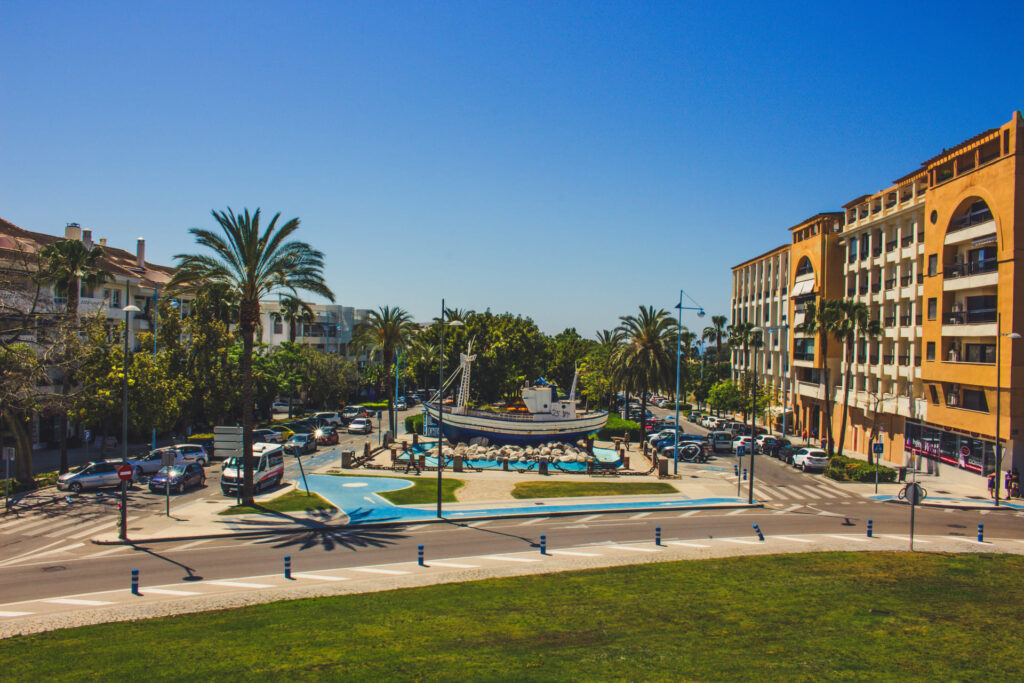 On the beachfront, little more than a kilometre from San Pedro itself, there is a beautiful, wide Paseo Marítimo (promenade) framed by palm trees and dotted with bars, chiringuitos, and plenty of places to rent water sports equipment.
The town that forms the majority of what is San Pedro de Alcántara is a square-shaped collection of tightly knit whitewashed buildings, straight and narrow streets and a main central plaza that is overlooked by a lovely church, with a newly developed boulevard creating a cool architectural connection between the village and its seaside area and promenade.
Compact and laidback, San Pedro de Alcántara is a long-standing favourite with holidaymakers, particularly those who take pleasure from strolling through relatively quiet streets, enjoying a relaxing cup of coffee or glass of beer, sampling a selection of terrific tapas – and simply enjoying the sunshine. Away from the apartments, shops, bars, and offices that comprise the peaceful centre of San Pedro de Alcántara, the newer urbanisations of Nueva Alcántara form something of a front garden for the town.
On the other side of the wide avenues, grid-shaped developments and grassy lawns stretch out before you, fronted by the shimmering azure of the Mediterranean. Hundreds of expats and non-local Spaniards have holiday homes here, hidden in vast developments and enveloped by a sublime sense of stillness. The beach and promenade act as an open-air gym, solarium and nightclub all in one.
Just to the west of San Pedro – still in Marbella, on the border with Estepona and Benahavís municipalities – is Guadalmina, one of the Costa del Sol's oldest established and most exclusive and highly-coveted residential estates. It is home to ultra-select villas and townhouses, tranquil tree-lined avenues, two highly rated golf courses (one dating to 1959), an international college, and a diverse array of premier services and amenities.
The town has everything you could possibly want: well-priced supermarkets, medical clinics, an international college, 24-hour pharmacies, plenty of superb bars and restaurants and excellent access to the rest of the Costa del Sol. Sedate reputation aside, San Pedro still surprises with the choice and vibrancy of its nightlife.
In the evenings, particularly during summer weekends, the various bars-cum-clubs that front the square stay open until late, pump out disco and pop music all night and attract a young and mostly local crowd who spill out into the square and mingle happily until sunrise.