Quite tangibly Spanish, Estepona is at the same time surprisingly sedate. The approach to Estepona from the east is all dramatic twisty roads, luxurious hotels, and sumptuous beach clubs, while its backdrop is highlighted by one of the coast's tallest and most striking mountains.
Estepona is located at the western end of the Costa del Sol at the foot of the Sierra Bermeja mountains, about 30km west of Marbella. Whatever you are dreaming of in the form of a home in Spain, you are likely to find it right here in Estepona. Property in Estepona ranges from stunning villas to one and two-bedroom apartments, as well as elegant properties located within some of the many golf resorts. Although Estepona is located just west of Puerto Banús and Marbella, you are likely to get much more property for your money here and it is popular with overseas buyers, due to its host of amenities, great location and beautiful beaches.
Walking around Estepona you'll find a fantastic selection of high-end boutiques, bars, and restaurants – including fine dining venues, such as the Michelin-starred, El Lido. Golf lovers will feel at home here playing in one of many top-notch golf courses dotted around the area.
Estepona boasts a long promenade studded with flowers and palms and a fine sandy beach, away from the seafront, the old town is very pretty, with cobbled alleyways and two delightful plazas. Whether you are looking for a holiday home, second home or a place to come and live full time, Estepona must be one of the places you are likely to fall in love with.
Even if you turn your attention toward Estepona as you drive past, the distant silhouette of Gibraltar in one direction, or the awe-inspiring sweep of the northern Costa del Sol in the other, instantly grabs your eye. Fronting a wide, sweeping beach that stretches the length of the town, Estepona's charming boulevards, beautiful plazas, and inescapably Spanish atmosphere act as a breath of fresh air.
In recent years Estepona has also promoted itself as the "Garden of the Costa del Sol", transforming the historic centre with a beautification project that has involved adorning walls with murals, planting one million flowers, bedecking streets with hanging flowerpots and undertaking a significant pedestrianisation of the streets – as well as opening a stunning Orchidarium.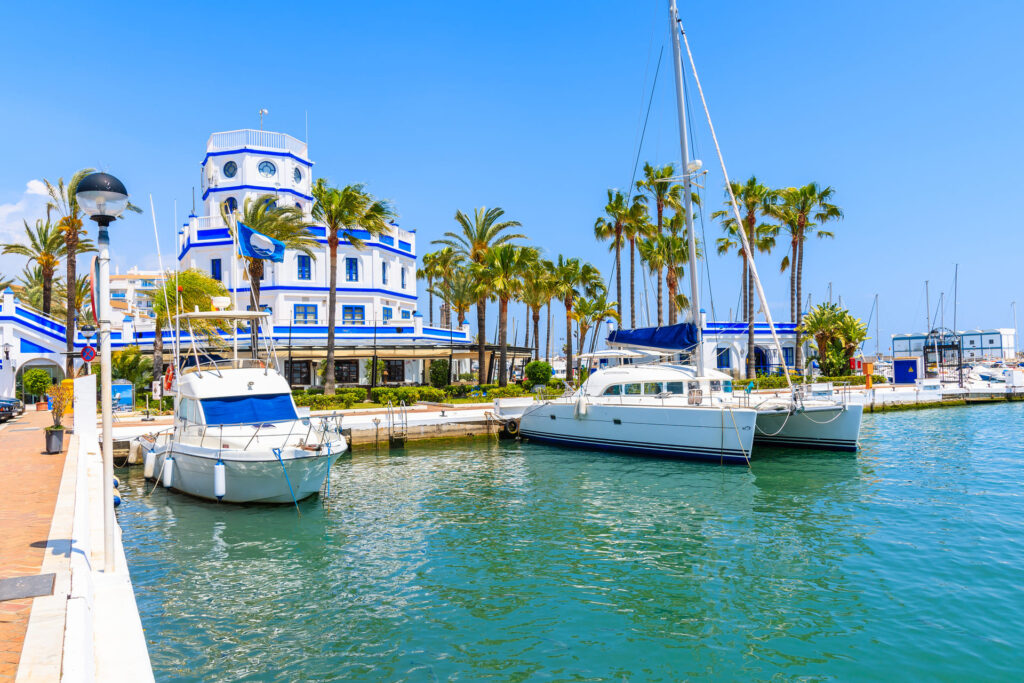 Every Sunday morning, throughout the year, the colourful local market takes over the harbour and its surrounding streets and alleys. While the same market can be found in Marbella on Mondays, San Pedro on Thursdays, and Nueva Andalucía on Saturday mornings, Estepona is essentially its spiritual home.
The Playa Del Cristo: Hiding just around the Punta de Doncella headland from Estepona's marina, Playa del Cristo is the pick of the resort's beaches. There's a breakwater on the east side and along with the natural curve of the bay and the beach's east-facing orientation, this helps protect the beach from breezes and sea currents. It all keeps the transparent, pool-like waters surprisingly warm too. For parents this all brings peace of mind, as kids will be able to play in safety, and there are also two chiringuitos should you get peckish during your lazy day by the Mediterranean.
Centro Historico: Estepona's old core is one of the loveliest on the Costa del Sol and is a slice of life in a typical Andalusian town. Down cobblestone streets decorated with geraniums you can investigate the Castillo de San Luis, a fortress constructed by Spain's Catholic Monarchs at the end of the 15th century, and Plaza del Reloj (Clock). This endearing little square has a belltower that is the last remaining part of the original Iglesia de los Remedios, destroyed in an earthquake in the mid-18th century. There are orange trees and Norfolk Island pines next to a graceful iron pavilion for outdoor concerts by Estepona's official Concert Band.
Orchidarium Estepona: A delight for amateur botanists, the Orchidarium has only been around since 2015 but has already become both a landmark and one of the western Costa del Sol's top attractions. You can't miss the modern building's three glass domes; the tallest has a striking elliptical shape and reaches a height of 30 metres. Underneath are three waterfalls that flow in unison during a special show every hour. The waterfalls are just one element that helps recreate the tropical forests of Southeast Asia and South America. There are more than 5,000 plant species at the Orchidarium, and the largest collection of orchids in Europe, with 1,300 different species.