Previously, a tiny fishing village, Fuengirola has become a vibrant metropolis brimming with character. Fuengirola's beautiful Costa del Sol location is a real beach paradise, with kilometres of smooth, golden sand curved around the coast.
Pick a different beach every day and stroll along the sunny boardwalk that connects them, right the way up to the marina. The marina is the place to go for a relaxing boat excursion along the coast.
It is also attractive during the Fuengirola summer festival, when the whole town takes part in the annual street celebrations. With views of the stunning coast, the marina is where you'll find energetic Irish pubs, jazz clubs and tropical nightclubs. Alternatively, you can enjoy the contemporary atmosphere of the town's central square in one of the tapas bars and Mediterranean restaurants.
It is the combination of lively nightlife, amenities and stunning beaches that draw people here on holiday, but to live also. Fuengirola boasts an enticing mix of everything you need in a resort and so properties that are particularly popular are apartments. It is in a fabulous location with transport links to the rest of the Costa del Sol coastline and is just 15 minutes from Málaga airport.
Striking the right balance between expat convenience and Spanish authenticity, Fuengirola delivers an intriguing melting pot of cultures, where it is not uncommon to see British, Irish, Nordic, and German inhabitants mingling with the local Spanish population, creating a cultural cocktail that is almost unique on the Coast. While fast-food cafés are highly visible, their numbers are more than matched by traditional tapas bars, classic chiringuitos, inviting Irish pubs and a fair collection of Scandinavian bars and eateries.
A look inside any one of the aforementioned establishments will also surprise, the clientele is equally diverse and eclectic, with both holidaymakers and locals at ease with one another, lending the entire town a warmth that is unusual for such an ostensibly transient destination.
Easily accessible, bathed in beautiful sunshine for pretty much 10 months of the year, affordable and lively, Fuengirola's unassuming reputation belies its undeniable charm. While Marbella is perhaps easier on the eye and Puerto Banús has a more glamorous nightlife, Fuengirola's everyman appeal is its main strength.
Nowhere is too exclusive or financially prohibitive, the streets are clean, the people are friendly, and the commercial and cultural variety on offer is as good as anywhere else on the Costa del Sol. Add a lengthy beach, a wide promenade, and some exceptionally well-priced Costa del Sol properties for sale, and you have the ingredients for a fine place in the sun.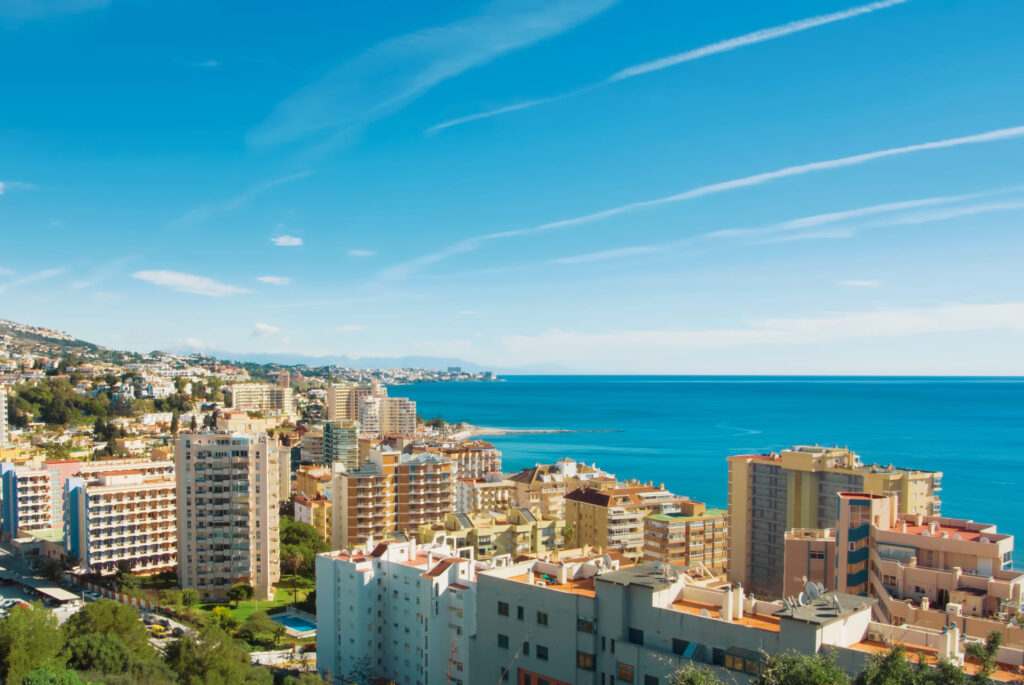 Bioparc Fuengirola: Nobody likes to see unhappy animals confined to cages, and you definitely won't get them at this first-rate family attraction. Both animals and visitors are brought closer together at the Bioparc Fuengirola. For visitors this means adventurous pathways through recreated tropical forest, with real vegetation and water features like waterfalls. For creatures like crocodiles, gibbons, pygmy hippos, lowland gorillas, Malayan tapirs, and Borneo Orangutans it means ethical enclosures without bars. In the summer you can book a "moonlight visit" to get glimpses of nocturnal animals that would normally be hiding or asleep during daylight hours.
Beaches: Most resorts would be happy to have one beach awarded the Blue Flag. Well, Fuengirola has three! So, there can be no doubt that the standards of hygiene and the amenities provided are top-notch. Starting in the south is Playa de Fuengirola, the resort's main beach that runs up to the marina. Soft sand, smooth waters and beach bars with delicious tapas are what you'll find here. Boliches-Gaviotas is in the quieter part of Fuengirola, has a gentle curve and is marginally broader. Joggers, cyclists, and roller-skaters will make their way along the Paseo Marítimo in summer. Finally, there's Torreblanca, which is quieter still and strikes a nice balance between seclusion and useful facilities like water sports centres and food kiosks.
Water Sports: Fuengirola has its own marina, which is great news if you want some marine-based fun in the Mediterranean. As for what you get up to, the range of activities is almost endless. There are a couple of companies based in the marina providing parasailing, tubing, wakeboarding, and water-skiing for people in need of a rush. If you're after a more tranquil time you can go on a cruise out into the mirrored waters of the open sea to spot dolphins, or even go all out and charter a yacht for a day or two.
Miramar Shopping Centre: Fuengirola has one of the largest shopping malls on the Costa del Sol. At the height of summer, you may want to flee from the sun to somewhere air-conditioned for a couple of hours. All the better if there's a wide choice of shops and restaurants on hand. Superdry, Primark, Mango and H&M are here, as well as Spanish high-street mainstays like Oysho, Bershka and Pull & Bear. If you're in need of a bit of grown-up time, then you can bring the little ones to Isla Miramar for a while where they'll be in the care of specialist staff organising fun activities the whole day.