La Cala de Mijas is a little gem on the eastern Costa del Sol.
It is close to the much larger urbanisation of Calahonda. But should never be confused with it; they may be neighbours but they're nothing like each other. La Cala was once a traditional fishing village. In fact, part of its attraction today is that it still has a village feel to it. When you compare it with Mijas Pueblo, another extremely popular residential area, and a proper 'pueblo blanco', La Cala de Mijas has many advantages. It has beaches and a developing restaurant scene that suggests this town is on the up. Besides it is only a 20-minute drive to Málaga airport, you can see why this once slightly neglected area is suddenly becoming quite 'des res'!
La Cala de Mijas translates into 'The Cove of Mijas' was once an old fishing village known as one of the few parts of the coast relatively untainted by mass tourism. Situated on a bend in the coastline, it falls halfway between Marbella and Fuengirola, and as such, has the unique benefit of both long sandy beaches and unspoilt countryside.
La Cala de Mijas boasts an excellent location just a few minutes from the AP-7 motorway and the national free A7 motorway and it is only 25 minutes from Málaga international airport too.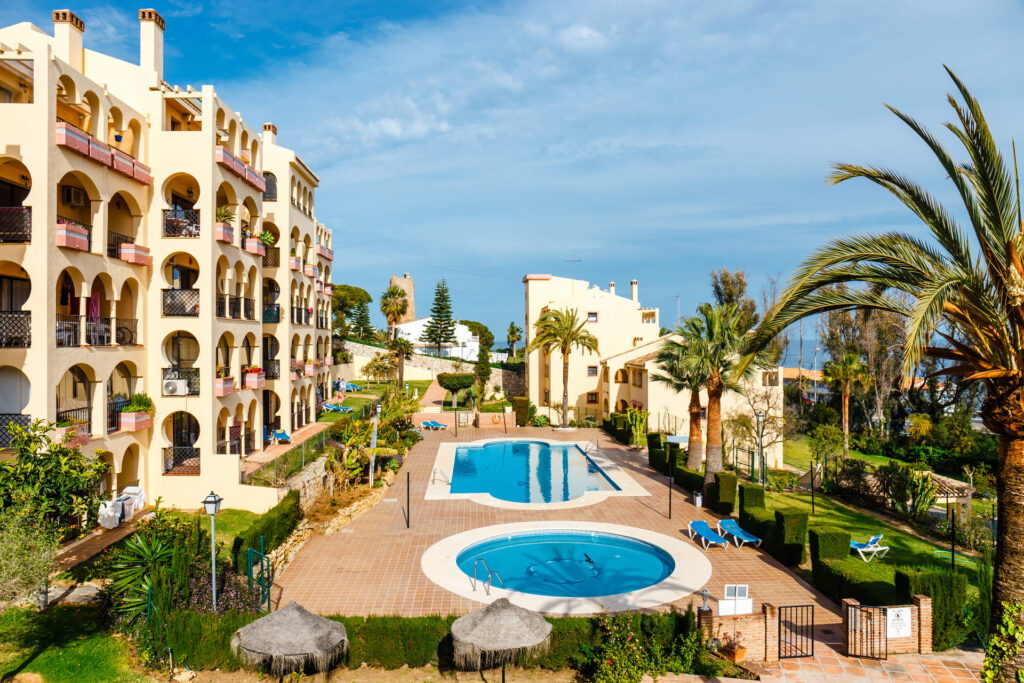 La Cala is packed full of dining choices, including many restaurants, tapas bars and cafés. Dotted in both the old town and along the beach, they serve everything from typical Spanish 'Menu del Dia' to a range of international cuisine. Close by you will also find several international schools, a popular horse racing circuit, a luxury spa hotel and three championship golf courses. One of which is 'La Cala Golf' – the largest golf complex in the country.
Thanks to the town's perfect location, residents can relax on some of the most highly regarded beaches on the Costa del Sol. Alternatively, enjoy lunch in the quaint old town, or head inland for walks, bike riding, horse racing, fishing, sightseeing, golfing and more. The possibilities are endless, and it's all set within an area of natural beauty. Property here is in high demand.
You need to live in La Cala de Mijas to truly experience what life is like there, but this part is easy: there are plenty of affordable and desirable Costa del Sol properties for sale throughout the town and its outskirts, ranging from new-build apartments to more traditional Spanish-style flats and townhouses as well as luxurious detached villas.
Once a home has been found, the town has everything you are going to need, including large supermarkets, a weekly market, sports amenities, an expansive beach, convenient road access to either end of the Costa del Sol, plenty of bars and restaurants, and all manner of shops including 24-hour pharmacies.
About 60 percent of the population of Le Cala de Mijas are Spanish and there are a large proportion of English, Scandinavian and Dutch owners. The soft golden beaches are the main attraction plus the friendly atmosphere in the town is very unique and charming. There is also a large selection of international restaurants from Thai to seafood and Chinese to authentic Spanish cuisine, and don't forget our local "Chiringuitos" along the beach with fresh seafood.
The 2,000-metre-long beach is around 35 metres wide. So, there is plenty of room on this beautiful sandy, south-facing beach. The beaches are used in summer and winter and visitors will find plenty of good bars, chiringuitos, and restaurants along the stretch. It's easy to park near this beach, and there is good disabled access, plus in summer there is a lifeguard service. Water sports fans can hire equipment during the summer month and the beach is generally very well resourced in terms of amenities. These include beach beds, showers, and toilets. A little further on the smaller Cala del Moral beach is recommended for snorkelling at its rocky cliff end. These are some of the most beautifully positioned beaches on the coast.
We have everything here; the local doctor's surgery is newly built and there is an English translator who will assist you on your appointment if needed. Costa del Sol Hospital is just 15 mins down the coast towards Marbella and very easy to access. Cerros del Aguila is a Danish built Urbanisation just 5 minutes from La Cala near the Hipodromo Racecourse. There are 3 restaurants and a lovely friendly atmosphere!
La Cala has plenty of small shops. From a pharmacy to bakeries, fruit and vegetable shops, a vet, banks, hairdressers, and Internet cafes. There are two large supermarkets in the area and a street market on Wednesday and Saturday. For a shopping mall experience and to visit the cinema, you only have to drive to the Miramar Centre, near Fuengirola. Here, you will also find Dunnes Stores and Iceland near Miramar.