Mijas is a whitewashed village located 450 metres above sea level and owing to its climate and terrain is popular for golf holidays.
Mijas Pueblo as it is really known, is located 23 kilometres away from Málaga International Airport and 15 minutes away by car from the beaches of Fuengirola on the Costa del Sol. This stunning mountainside village offers the most beautiful views of the coastline. Naturally there are plenty of beautiful villas here, and as you wind your way into the narrow winding streets that are full of shops, bars, and restaurants, it offers a quieter pace of life than its coastal sister (Mijas Costa)
Mijas Costa has much to offer. First and foremost, it's a beach resort, with endless golden beaches that each have a unique character. It's home to an excellent selection of shops, supermarkets, bars, nightclubs, and restaurants, with something to suit all tastes. From local chiringuitos that specialise in traditional tapas to international curry houses, Italian restaurants, and British cafés, Mijas Costa has it all. Golf fanatics are also in luck, as there are several world-class golf courses within a short radius. There is a real sense of community in this region, and it is ideally located for connecting all the resorts of the Costa del Sol. Marbella and Puerto Banús are around 20 minutes away. There are international schools nearby for those that are looking to relocate. All in all, this makes Mijas a firm favourite as a place to live or have a second home.
Far from its rather unfair image as a British ghetto, Mijas Costa is thriving, socially, commercially, and culturally. This is thanks in part to the property boom that hit in the early to mid-noughties, when thousands of British and Irish property investors and lifestyle buyers flocked to the area, pushing the expat population past 40 per cent, the majority from the British Isles.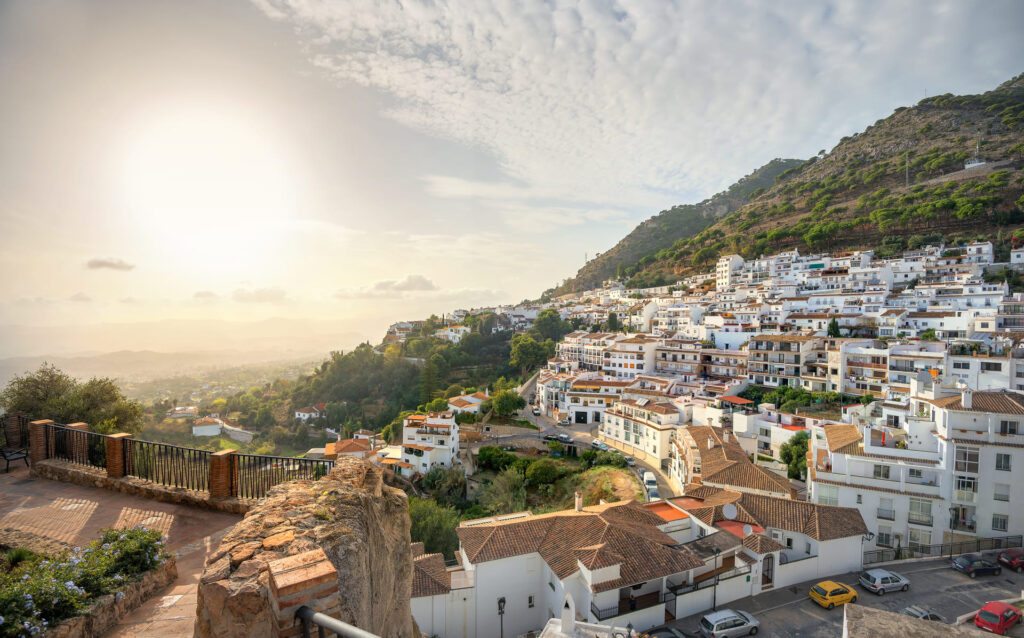 Mijas Costa includes, among other areas, El Faro, La Cala de Mijas, Riviera de Sol and Calahonda but basically the swathe of land between Fuengirola and Marbella is pretty much Mijas Costa. As a result of the British and Irish presence in the area, Spanish influences are somewhat diluted, but still noticeable, particularly in the new-build architecture. After all, a mock-Tudor mansion would look distinctly out of place on the Costa del Sol, so most private villas and large apartment complexes have stuck true to their Andalusían origins.
So too has the dining out: Mijas Costa has plenty of excellent Spanish restaurants, where some of the best tapas and paella dishes on the Coast can be found. With a varied nightlife, superb beaches, easy access to neighbouring towns and cities and an excellent sense of community, Mijas Costa is a heavenly home away from home for expats.
Golf is a major feature of life for a lot of the inhabitants of Mijas Costa. The Costa del Sol is renowned as the premier golfing destination in Europe, and Mijas has several world-class courses within a short radius. The magnificent climate and verdant landscape make golfing an absolute pleasure, even for beginners, with the ever-inviting 19th hole at the clubhouse the perfect way to conclude a round.
Along the coast, the endless beaches each have their own character, from the rockier, more deserted areas in the eastern part of the municipality to the more popular, softer, and wider affairs that are located in La Cala and Riviera del Sol. On the promenades of these resorts wafts the tantalising aroma of grilled fish, freshly caught that morning, and delivered to your plates with a minimum of fuss and expense and maximum taste and flavour. Of course, for something a little less "foreign", the ubiquitous Irish bars and British cafés serve up every comfort from home you can imagine.
Residentially, the peaceful streets and palm tree-lined avenues of Mijas Costa are suburbia personified: delightful homes hide behind high walls and shaded gardens; dog walkers patrol the streets; joggers pound the pavement; and children ride their bikes in complete safety. International Schools in Marbella and Benalmádena are close by, and all other manner of amenities are easy to come by too, including shopping centres, supermarkets, and sports facilities, while Marbella's Costa del Sol hospital is also located conveniently close by.
In the evening, Mijas Costa's diversity of choice makes it a fabulous place for all ages. Children will enjoy the chance to stay up late and enjoy a pleasant family meal, either along the beach or at one of the numerous commercial centres dotted all over Mijas Costa. Everything from authentic Spanish Cuisine to Japanese, Thai, Chinese, Indian, Mexican, Argentinian, and British can be savoured.
Then there are the bars… plenty of them: karaoke bars, Irish pubs, Spanish tapas bars, sleek disco bars, nightclubs, and everything in-between – night owls are certainly spoiled for choice in Mijas Costa.
Away from the coast, and its main residential centres of El Faro, La Cala, Riviera del Sol and Calahonda, Mijas municipality extends over a vast area into the verdant undulating hinterland on the way to Alhaurín el Grande and Coín, passing through one of the Costa del Sol's most iconic "white" villages, Mijas Pueblo.