Puerto Banús is an upmarket resort located six kilometres to the south of Marbella which was built by Jose Banús in 1970.
The resort began as a marina with a shopping complex and has become one of the largest entertainment centres on the Costa del Sol. Synonymous with luxury, it's a magnet for the rich and famous and the impressive marina is lined with superyachts, high-end fashion boutiques and exclusive bars and eateries. So, you'd be forgiven for assuming it's an expensive place to live. But the reality is, the cost of living here is just as reasonable as anywhere else in the Costa del Sol.
The nearest airport is Málaga International Airport which is 60 kilometres away. This resort is also popular due to its proximity to Marbella while to the south you will find the resorts of San Pedro de Alcántara and Estepona. Puerto Banús is a popular tourist resort attracting close to five million tourists annually most of which come from northern-Europe especially from the United Kingdom as well as the very wealthy from Saudi-Arabia and Kuwait. It may be described as the 'millionaire's playground', but you certainly don't need to be a millionaire to live in Puerto Banús.
It's 10am and the dazzling warmth of another Mediterranean summer day stirs you from your slumber. The white cotton sheets loosely wrapped around you fall away, as you stretch, throw open the blinds and gaze down toward the glistening harbour of Puerto Banús.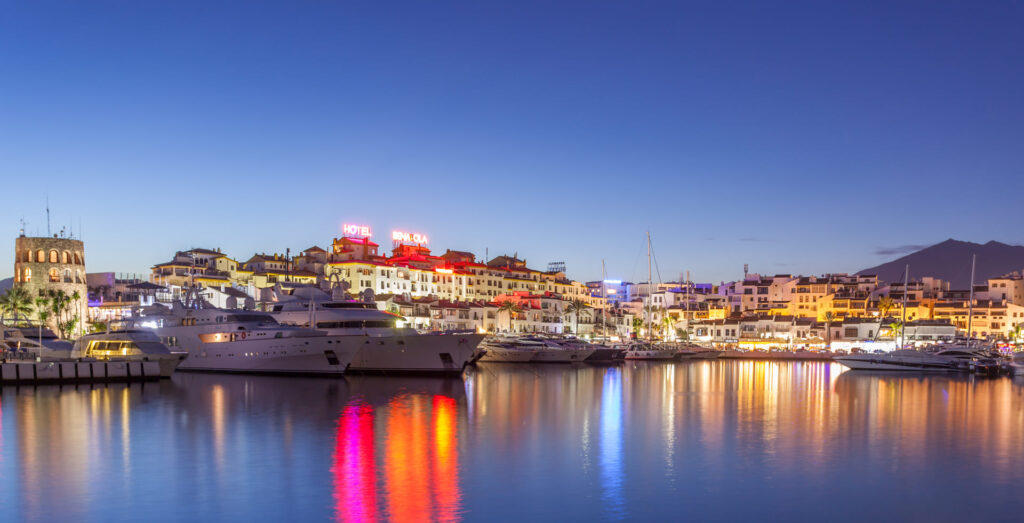 Ferraris, Lamborghinis, and Bentleys cruise along unhurriedly, turning the heads of café-goers enjoying their coffee in the relative cool of the morning. Mega-yachts bob gently in turquoise waters at their moorings. Expats saunter by, bedecked in designer nautical gear, a relaxed smile and deep tan illuminating their faces as they gaze though the boutique shop windows of Louis Vuitton, Dolce & Gabbana, Bulgari, Gucci, and Jimmy Choo and enjoy another fine morning in their adopted home.
This is life in Puerto Banús. A penthouse or apartment overlooking or near the harbour is highly sought-after, offering residents not just a glimpse into the lifestyles of the rich and famous, but also a chance to be part of this select club. Ostensibly modern yet with its roots placed firmly in classic Andalusian architectural style, Banús is a compact harbour town of pristine, white-washed buildings, pleasant plazas, wide boulevards, and sheltered beaches, accentuated by elegant apartment complexes, plenty of bars, beach clubs and nightclubs, and exquisite gourmet cuisine establishments.
When developer José Banús dreamed of creating a Spanish rival to St. Tropez and Monte Carlo in the 1960s, little could he have known that his young upstart would (at least temporarily) outstrip its French rivals. The overall sophistication of Banús might have waned just a little in recent years, but its enduring popularity resides in its location, its climate, its accessibility, its infrastructure, and its trendy desirability – all of which are still solidly relevant today.
Even if you cannot afford a supercar or a mega-yacht, do not have the luxury of being able to dine out in the finest restaurants every evening, and are unable to lounge about at some of Europe's most swanky beach clubs each weekend, Puerto Banús still has plenty to offer. And, for those looking for a more permanent attachment, it has some outstanding properties that are well-located and more affordable than they have been for years.
Between November and March, most of the daytime activity will take place in or around the harbour. The 900 or so moorings for yachts of various sizes are less heavily populated at this time of the year, while the harbourside walkway (or "first line") is noticeably quieter, yet still dotted with holidaymakers and locals enjoying the views, the cafés, the bars, the boutiques and – much more often than not – the clement weather.
Come April, however, and the first shoots of summer emerge, initially in the form of the thousands of madrileños who descend on the Costa del Sol for their Easter celebrations, soon followed by northern European holidaymakers enjoying the beautiful spring weather.
From this moment through to the end of September, Banús is awash with activity. The ethnic cafés, takeaways, and restaurants at the far end of the resort, and the shopping centres in the heart of Puerto Banús, attract people from all over the world.
Along the first line, there are options for a relaxing coffee, glass of wine or spot of people-watching, select boutiques, and a diverse selection of eateries, from well-priced pizzas to sumptuous seafood platters.
Alongside Puerto Banús to the west are the beach clubs, where you have a stark choice: those aimed at holidaymakers and wealthier clients and known for their "champagne-spraying parties" and other extravagances, or the more traditionally Spanish chiringuitos (beach restaurants). To the east of the harbour, a more family-friendly beach ambience tends to prevail.
The nightlife of Puerto Banús is legendary – for good reason. Whether you seek a romantic meal for two alongside the harbour, relaxed drinks with friends in a chic wine bar, a last drink with the family in an Irish theme pub before heading home, or a robust night out involving numerous pubs and club. Banús caters for all tastes and ages. For more cultured pleasures, best to head to somewhere else in Marbella – or further afield to Sotogrande.