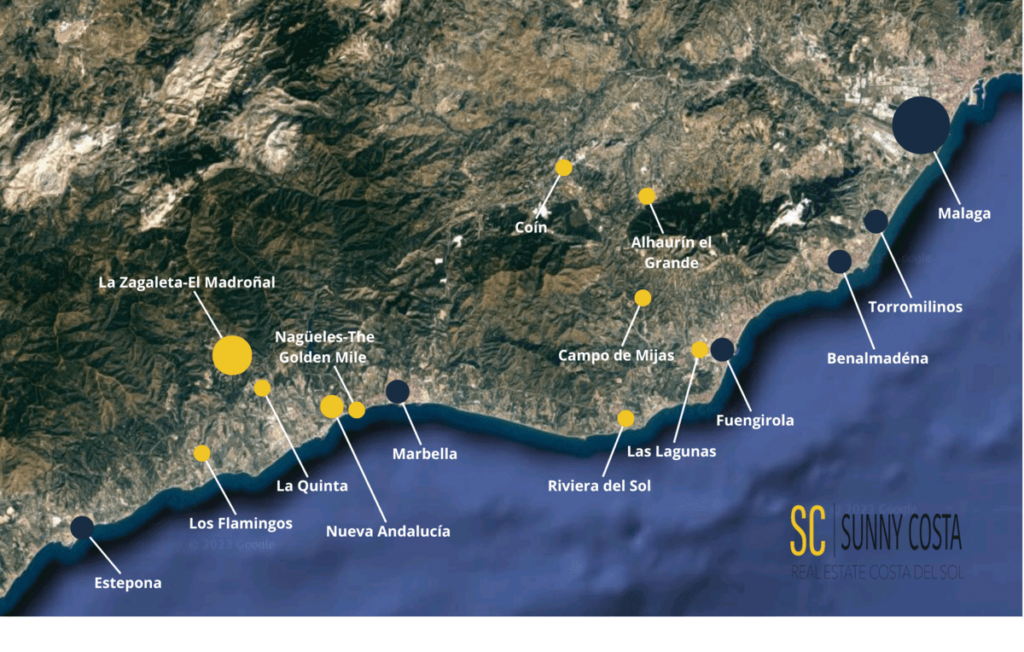 The Costa del Sol in Spain is known for its luxury, sunny beaches and unrivaled lifestyle. It is home to some of the most desirable residential areas in the world, making it a highly desirable destination for those dreaming of moving to Spain. While the region is known for its luxury residential areas and exclusive resorts, there are also a number of affordable options for those who want to enjoy all the benefits of the Costa del Sol without breaking the bank. Below is an overview of the top 5 most and least expensive areas to buy property on the Costa del Sol:
TOP 5 cheapest areas on the Costa del Sol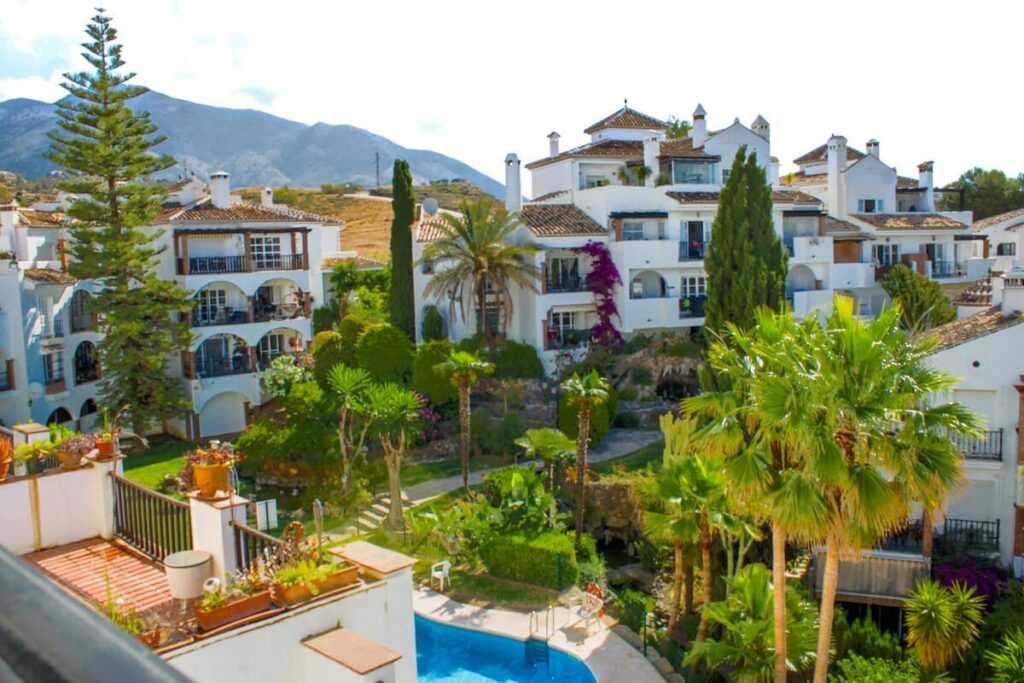 Coin – 1,577 €/m2
Coin is a picturesque town located in the interior of the Costa del Sol. It is known for its cobbled streets, historic buildings and charming squares. The city is surrounded by beautiful landscapes with mountains and rivers. This area offers an authentic Spanish lifestyle and is an ideal location for those who want to live near natural parks while having access to basic amenities.
Alhaurín el Grande – 1,601 €/m2
Alhaurín el Grande is a charming village located in the Málaga province, about 30 kilometers west of Málaga city. This area is known for its picturesque village with narrow streets, historic buildings and magnificent views of the surroundings. It is also famous for its production of almond trees and wine. The city has a vibrant city life with a variety of shops, restaurants and cultural events. It is surrounded by beautiful nature and offers a range of sporting opportunities.
Campo de Mijas – 2,129 €/m2
Campo de Mijas is located near Mijas and Mijas Costa, along the coast of the Costa del Sol. This area is known for its charming Andalusian atmosphere with white houses and traditional architecture. It is ideal for those who want to stay near golf courses and nature reserves. There are also great restaurants and bars offering local and international cuisine.
Riviera del Sol – 2,271 €/m2
Riviera del Sol is a coastal town located between Fuengirola and Marbella. The Riviera del Sol is known for its beaches, golf courses and relaxing atmosphere. It's a popular destination for people who want an active lifestyle close to the sea.
Las Lagunas – 2,315 €/m2
Las Lagunas is a district in Fuengirola and offers access to a wide range of amenities, including shopping centers, restaurants and schools. It has a more modern and urban feel compared to some of the more traditional Andalusian towns in the area. It's a convenient location for those who want to stay close to city amenities.
TOP 5 most expensive areas on the Costa del Sol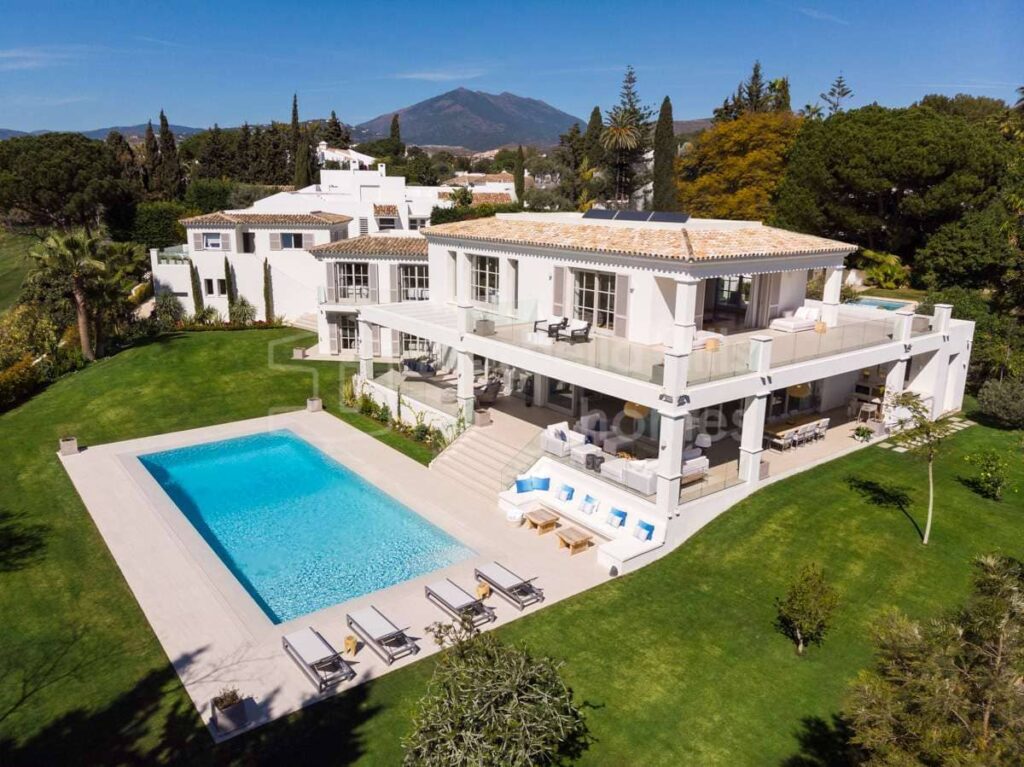 La Zagaleta-El Madroñal – 6,561 €/m2
La Zagaleta and El Madronal are the crown jewels of luxury residential areas in Costa del Sol. These two exclusive residential areas are located west of Marbella, in the mountains of Sierra de las Nieves and are known for being some of the most luxurious and private residential areas on the Costa del Sol. They have large villas and plots, stunning sea and mountain views and private security. Residents in these areas have access to private clubs, golf courses and bridle paths. They also offer a quiet and scenic atmosphere away from the hustle and bustle of coastal towns
Nagüeles-The Golden Mile – 5,731 €/m2
This area is located in western Marbella and includes a stretch of coastline known as "The Golden Mile." The Golden Mile is known for its luxury and exclusivity, with elegant villas, beach clubs, five-star hotels and luxury properties. Nagüeles is part of this area and is known for its tranquility and proximity to the beach. The Golden Mile offers fine restaurants, shops and beach clubs. It is also home to some of the Costa del Sol's most famous attractions, including Marbella Club Hotel and Puente Romano Beach Resort.
La Quinta – 5,250 €/m2
La Quinta is an exclusive development in the mountains of Benahavís, close to Nueva Andalucía and Marbella. The area is also known for its golf courses and panoramic sea and mountain views. There are also opportunities for hiking and outdoor activities in the surrounding mountains.
Nueva Andalucía – 4,998 €/m2
Located west of Marbella and stretching into the mountains, Nueva Andalucía is known as the "Valley of Golf," with several world-famous golf courses and is a mecca for golf enthusiasts. The area offers a wide range of luxury villas and apartments and is popular with international buyers.
Los Flamingos – 4,417 €/m2
Los Flamingos is an exclusive area in Benahavís, between Marbella and Estepona. Los Flamingos is a prestigious golf and residential development. In addition to the golf course, the area also offers a range of exclusive homes, including modern villas with private pools and views of the Mediterranean Sea.
Spain is a destination that appeals to both budget-conscious home buyers and those who dream of a lifestyle filled with luxury and elegance. Whether you're looking for affordable accommodation in charming villages or luxurious mansions on the Mediterranean coast, Spain has something for everyone. So if you're thinking of trying your luck in Spain, you're sure to find a property that fits your budget.